An isolation transformer is a type of transformer that is used to isolate electrical circuits from one another. It is commonly used in situations where it is necessary to prevent electrical current from flowing between two circuits, such as when connecting sensitive electronic equipment to a power source.
Purevolt India offers a range of isolation transformers designed to mitigate the impacts of power line issues such as noise, spikes, surges, transients, and neutral problems. These high-quality transformers are available at competitive prices and are exported to various locations around the world. By using an isolation transformer, you can help protect your electrical system and devices from the harmful effects of these power line issues.
Purevolt India has been in this industry for more than 25 years and managed to become a leading manufacturer of isolation transformers in India. We offer custom-made solutions as per our client's requirements. We believe in providing quality work on a given deadline. You can get in touch with our team for more details about our products and pricing.
Click here to see the estimated price of Isolation Transformer in India (Available in Single & 3 Phase)

Electrical Isolation Transformer
Rating available 150VA 3-Ph and up to 1000 KVA 3-Ph

A step-down transformer is a type of transformer that is used to reduce the electrical voltage of a circuit in sensitive equipment. It has a primary voltage that is higher than its secondary voltage and is commonly used in power plants, power grid transmission systems, and power distribution stations. Our production facility uses high-quality materials and components to manufacture these transformers, which are highly demanded in the market. Our step-down transformers come equipped with an on-load or no-load voltage tapping changer and are available at competitive prices to our clients. By using this, you will be able to manage power supply lines. 

Our Step-up Transformer is an efficient and reliable power transformer suitable for a variety of settings including commercial centers, airports, chemical plants, and nuclear power plants. It is designed with a low magnetic emission level, quiet operation, low weight, and small size to make it a convenient choice for these environments. We manufacture this transformer using high-quality materials and components at our state-of-the-art production facility. It has a low no-load loss, no-load current, and low noise, making it a highly efficient and effective choice. Our Step-up Transformer is available in various technical specifications to meet the specific needs of our clients. We offer it at competitive prices to ensure that it is accessible to our customers.

3-Phase Isolation Transformer
Our 3 Phase Isolation Transformer is a compact and lightweight power transformer that is safe to operate and requires minimal maintenance. It is designed to withstand short circuits and lightning strikes, making it a reliable choice for various applications. The transformer coil is reinforced with glass fibre and cast under vacuum with epoxy resin, which gives it good mechanical properties, prevents cracks, and reduces local discharge. This results in a longer service life for the transformer. We manufacture this transformer using high-quality materials and components to ensure its durability and reliability. We offer it at affordable prices to make it accessible to our customers.
7 important factors to consider when choosing an isolation transformer:
Since 1995, Isolation Transformers Manufacturer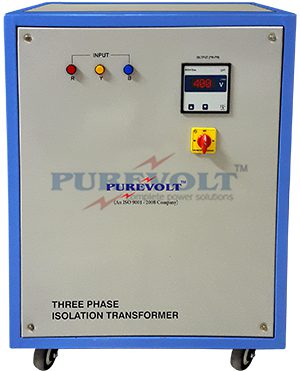 At Purevolt India, we are committed to producing high-quality single-phase and three-phase isolation transformers that meet the requirements of our customers.
Our team follows strict manufacturing procedures to ensure that our transformers are long-lasting, efficient, and perform reliably.
We use only the best raw materials to manufacture our products and our research and quality control teams work hard to use the latest technological solutions to deliver the best results. Our isolation transformers are available at competitive prices. We are dedicated to providing excellent after-sales service to our customers and strive for 100% customer satisfaction.
Our reputation for producing the best isolation transformers has made us a well-known and respected name in the industry, both nationally and internationally.
With a capacity range of up to 3000 KVA, we are able to serve a wide range of customers with our dynamic isolation transformers.
Features of our Isolation Transformer
Trusted by Leading Brands
Overseas Installations and Trade Shows
Isolation Transformer Price in India
An isolation transformer can cost you between Rs. 10,000 and Rs. 1.75 lakhs.
The price of an isolation transformer can vary depending on a number of factors, including the size and capacity of the transformer, the manufacturer, and the location where it is being purchased.
We recommend checking with our sales team to get an idea of the current price of isolation transformers in India.
Frequently Asked Questions