Servo Stabiliser 5kva Price
Purchase a high-quality 5kVA servo stabilizer manufactured and tested by experienced engineers in India. Our Servo Stabilizer 5kva price can cost you Rs. (14k to 20k)*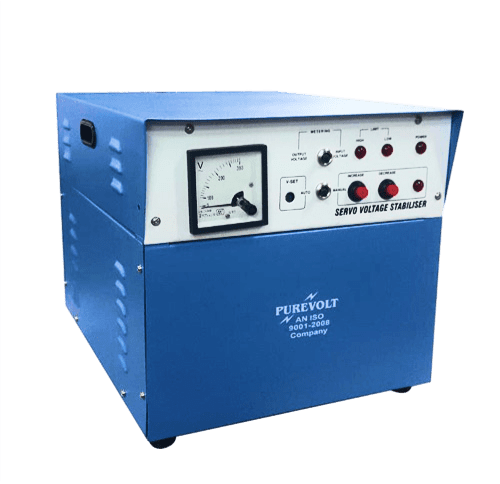 Experience Power Quality with Our 5 KVA Servo Stabilizer
Welcome to Servo Stabiliser India, the premier destination for dependable and top-notch power solutions in India! We take pride in presenting our flagship product, the 5KVA Servo Stabiliser, which will ensure that your power supply remains stable and secure at all times.
Our Servo Stabiliser is equipped with cutting-edge features that guarantee the equipment functions optimally, irrespective of power fluctuations.
Our team understands that an uninterrupted power supply is crucial for your business, and that's why we have engineered the Servo Stabiliser with advanced technology to provide you with a seamless and reliable power supply at an unbeatable price.
Do not let power disturbances hamper your productivity – choose Servo Stabiliser India's 5KVA Servo Stabiliser today and witness the difference!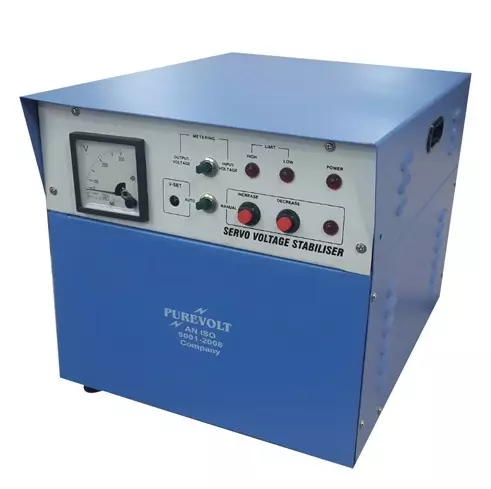 The control circuit is an IC-based digital circuit and control, ensuring that you get a stable and reliable power supply every time.
Other features of the Servo Stabilizer India 5KVA Servo Stabilizer include variable autotransformer + buck-boost transformer + servo motor construction, class B insulation, and air-cooled or oil-cooled servo stabilizer for cooling. The product also has nil effect on power factor and nil waveform distortion.
You can choose between digital or analog displays for metering, and the product has optional protections such as under/over-voltage cut-off protection, overload/short-circuit protection, manual bypass/changeover, surge protection using SPD, class C, and single-phase prevention.
With the Servo Stabilizer India 5KVA Servo Stabilizer, you can be assured of a stable power supply that is efficient, reliable, and competitively priced.
So why wait? Get your hands on this amazing product today and experience a reliable power supply like never before!
5 KVA Servo Voltage Stabiliser Price
The baseline price of a 5 KVA stabiliser is Rs. 14000*. The price may increase as per the design, quantity, input, output voltage, safety features, etc.
The price of a 5KVA servo voltage stabiliser varies as per the customer's requirements. 
Purevolt India provides special discounts and offers to its dealers, suppliers, distributors, resellers, etc. But the customization of the product makes the prices vary from one stabilizer to another.
The company may custom design the same 5 kVA stabilizer with different output and input voltage specifications. This change in specifications may vary the price of the stabilizer.
Our 5KVA stabilizer is manufactured with both unbalanced and balanced construction. It is also built with oil- and air-cooled construction.
Most stabilisers with 100 kVA and above are made of oil-cooled construction.
Generally, servo stabilisers consist of a variable auto transformer, a buck boost transformer, and a servo motor for each phase.
In general, our servo stabilisers are used for functions like cold storage plants, manufacturing plants,
Industries with various types of machines like treadmills, photocopiers, scanner machines at airports, medical equipment, CNC machines, and injection moulding machines
Printing machines, packaging machines, chillers, boilers, and scientific equipment.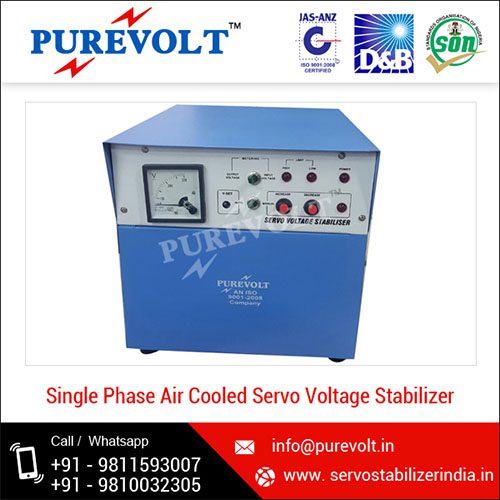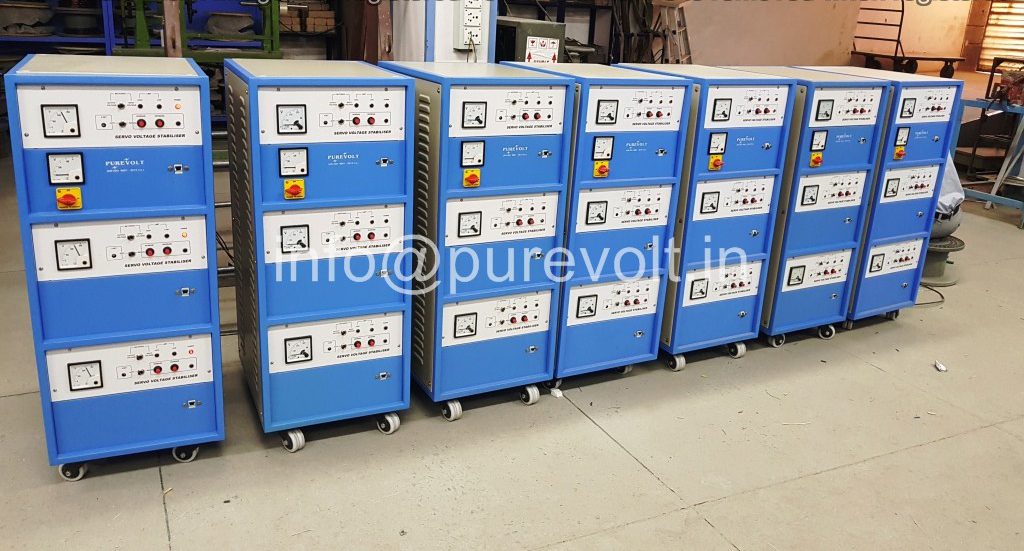 Our servo stabilisers are also used in industries like cement plants, flour mills, rice shellers, hotels and restaurants, and food processing units. Pharmaceutical units, paper mills, oil refineries, rubber industries, textile mills, warehouses, rolling mills, sponge iron units, showrooms, schools and colleges, etc.

For more details and the best offers on servo stabilisers, please contact our team now. You can email us or fill out the form for your order. We assure you of our best price offers.
General Technical Specifications of Servo Voltage Stabilizer
Technical Characteristics

SINGLE PHASE

THREE PHASE

Rating : 5 KVA Servo Voltage Stabilizer Price

1 KVA to 60 KVA

6 KVA to 2000 KVA

Input Voltage Range

195 V – 280 V AC
170 V – 270 V AC
155 V – 270 V AC
140 V – 280 V AC
110 V – 280 V AC
90 V – 280 V AC

340 V – 480 V AC
300 V – 460 V AC
270 V – 470 V AC
240 V – 480 V AC
190 V – 480 V AC
155 V – 480 V AC

Output Voltage

230 V ± 1 %

400 V ± 1 %

Output Adjustable

220 – 240 V AC)

380 – 415 V AC

Output Regulations

± 1%

± 1%

Type

Unbalanced Type

Insulation

Class B

Vector Group

Star / Star , 3 Phase + Neutral

Frequency Hz

47 Hz -53 Hz

Nature of Cooling

Air Cooled Servo Stabilizer
Oil Cooled Servo Stabilizer

Construction

Variable Auto Transformer + Buck Boost Transformer + Servo Motor

Effect of Power Factor

Nil

Wave Form Distortion

Nil

Control Circuit

IC Based Digital Circuit and Control

Response Time

10 ms or As per IS 9815 Standards

Voltage Correction Rate for Air Cooled Servo Stabilizer

15 -20 Volts / Sec

Voltage Correction Rate for Oil Cooled Servo Stabilizer

8 -12 Volts / Sec

Metering

Digital Display or Analogue Display

General Efficiency of our Servo Stabilizer

Better than 96 % or As per IS 9815 Standards

Ambient Temperature

0 – 55 Degree C

Optional Protection

Under / Over Voltage Cut off Protection
Overload / Short Circuit Protection
Manual Bypass – Changeover
Surge Protection using SPD, Class C
Single Phase Prevention
Questions in mind? Read our FAQs